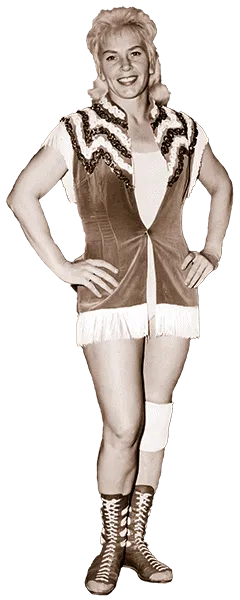 In the heyday of women's wrestling, matches were filled with exciting action, but the top stars were either women with good looks and only passable wrestling skills or rough and tumble performers who were not that much to look at. Until Penny Banner. Banner brought a mixture of sound technical wrestling prowess and the persona of a Hollywood bombshell. A tremendous athlete and natural show woman, she is remembered by many as one of the top female wrestlers in the history of the sport.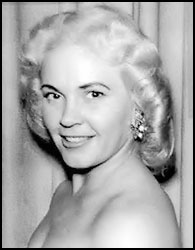 Penny Banner was born Mary Ann Kostecki on August 11, 1934. She was the oldest child of Casimir Kostecki, a polish-born immigrant who worked at a shoe company and sold candy on the side, and Clara, a homemaker. Mary Ann had two siblings and the family had a meager life without many luxuries such as a television set. The family seemed happy until Mary Ann's father ran off with another woman, a few weeks before her mother gave birth to another child. Faced with the prospect of raising four children alone, 31 year Clara was forced to put the children into an orphanage, the St. Vincent De Paul Home for Children in North St Louis, Missouri, for nine months. As a teenager Mary Ann worked in a hamburger shop in order to help her mother with the bills, but was unfortunate enough to meet a 21 year old man who showed an interest in her and began showering her with attention. At some point he came to her home and forced her inside. She later found out that he was wanted by the Federal Bureau of Investigation and worked with the bureau to set him up. While at the movie theater with him, she went to get popcorn, at which time FBI agents descended upon him and secured the arrest. Furious, he screamed at her, threatening to make her pay one day for setting him up. She feigned ignorance of the arrest and even visited him in prison to assuage his suspicion of her. Years later, as she walked alone on the street, he appeared out of nowhere and grabbed her. In later interviews she implied that he sexually assaulted her, but was unable to physically hold her down. He then threatened to kill her parents if she told anybody.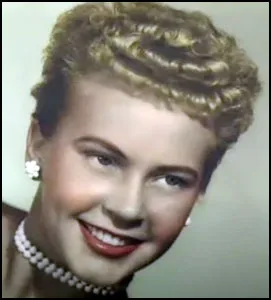 A few years later when she was 19 years old, she was working at a car dealership when she learned that one of her co-workers was getting divorced. She was asked to work as a governess for the couple's three children and she accepted the position which paid her a wage, and also afforded her the use of the family car. This allowed her to drive to a second job at a nearby lounge. While working there one night, the tall blond gained the attention of a man in the crowd. He was told that she was a fitness trainee and could do 200 sit ups. In truth, out of fear of her assaulter, Mary Ann, who had played basketball and volleyball in high school, had taken up weightlifting and judo as a means of defending herself. The man, who claimed to be a representative of National Wrestling Alliance president Sam Muchnick, bet her $20 that she couldn't really perform that many sit ups. Upon finishing her shift, she performed all 200 and collected her prize. She was also invited to meet Muchnick, and after meeting her, Sam offered to buy her a ticket to travel to Columbus, Ohio to train under women's wrestling promoter Billy Wolfe for a salary of $50 per week.
Wolfe was impressed with her and after only two weeks, he put her in her first match on July 29, 1954, a tag team victory with Gloria Barattini over Mae Young and Olga Zepeda at the Cloverleaf Sports Arena in Valley View, Ohio. (Other narratives say that her first match was against Kathy Branch using boots borrowed from Ella Waldek). After just a few more matches, she was told that she would be given an opportunity to wrestle for the NWA Women's World Title against June Byers. Byers was a 10 year veteran, but the newcomer was able to hold her own and last ten minutes against the champion in the match held on October 2, at the Memorial Auditorium in Canton, Ohio.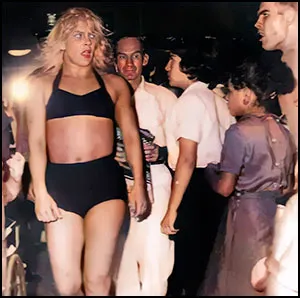 By now she was wrestling under the name Penny Banner. "Penny" described how insignificant she felt as a newcomer from St. Louis and the name "Banner" was chosen because Charlton Heston played the role of Ed Bannon in the movie Arrowhead and resembled an old boyfriend that had broken her heart. She stood 5' 8' and weighed 160 lbs., so she had the size and strength to compete with veteran wrestlers. She learned to wrestle quickly and was noted for her athleticism, utilizing such moves as the dropkick and sunset flip. She was also a picturesque beauty with a dazzling figure and thus had all the trappings of a fan favorite "babyface." However, she was anything but, preferring to "wrestle dirty" as the gorgeous "heel." With fewer than 50 girls in the business of professional wrestling at the time, while the women were in demand, there were less opportunities to stay in one place, because female wrestling was seen mostly as a novelty. Thus, Banner made endless trips from town to town, throughout the United States and Canada
After a few years of paying Wolfe 40% of her earnings, Banner left his group and moved to Tennessee to work for promoter Nick Gulas. In addition to catching the eye of wrestling fans, she attracted the attention of a famous area celebrity as well – singer Elvis Presley. A mutual friend offered Penny a ticket to see the star on January 1, 1956 at the Kiel Auditorium in St. Louis. The tickets were in the nosebleed section forcing Banner to buy a pair of binoculars, but her disappointment disappeared when a group of police officers escorted her from her seat to watch the rest of the concert backstage. After the show, Banner says that she went with Elvis to his hotel, spending the night "necking" with him. Over the next three years, Elvis came to see her wrestle several times and the two went on five dates, including a night at his Graceland mansion. Their romance was unable to overcome his enlistment into the U.S. Army and the two never saw one another again. As she explained in an interview with wrestling journalist Mike Mooneyham "I do not think either of us were serious about having any kind of relationship. Hell, I never even thought of having a picture taken with him. To me, he was just a guy and I was just a girl."
She found her first real success wrestling for Stu Hart in his Calgary Stampede promotion in Calgary, Alberta. She teamed with Bonnie Watson, and after a successful run, Hart decided to make them the Canadian Women's tag team champions in 1957, Banner's first title victory. During this period of career she would specialize in tag team wrestling, holding the NWA Women's World Tag Team Championship on three occasions, first teaming with Bonnie Watson on August 15, 1956 in Albuquerque, New Mexico, next with Betty Jo Hawkins in 1957 and Lorraine Johnson in 1958. In one of her tag matches (in October 1958), Banner, Lorraine Johnson, Kay Noble, and Laura Martinez fought their way outside of the ring and were charged by police for inciting a riot (all four pled not guilty and their fines were paid by the promoters because of the publicity it provided).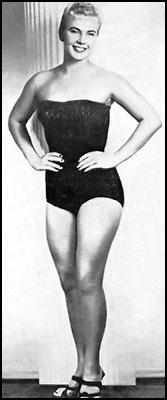 After several years in the business, she began dating Johnny Weaver, a former referee who debuted as a wrestler in 1957. The two were married in St. Louis in 1959, with their reception at the Claridge Hotel, where wrestling promoter Sam Muchnick had an office. Later that year the couple welcomed a daughter named Wendi.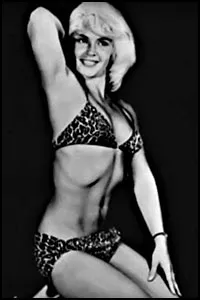 The 1960's were indeed a Banner time for Penny as she began to concentrate on her singles career. The face of women's wrestling had changed with Mildred Burke's retirement in 1956. June Byers now held the National Wrestling Alliance (NWA) Women's title but had declared that she intended to retire as the champion and was subsequently stripped of the belt by the Baltimore Athletic Commission in 1956. The commission announced a 13 woman battle royal for the belt and the Fabulous Moolah was crowned the new champion. Byers was still recognized as the champion by the American Wrestling Association (AWA) after it split from the NWA, and Penny was chosen to challenge her for the newly created AWA Women's title. Banner won her first singles title on November 25, 1960, capturing the NWA Southern Women's Championship (Georgia version) and then grabbed the NWA Texas Women's Championship on March 8, 1961, defeating Nell Stewart in Fort Worth, Texas. Byers, however, no-showed the event and promoter James Barnett decided that a nine woman battle royal would be held in Angola, Indiana to determine the new titleholder. Banner was the last woman standing at the end and was named the new AWA Women's World Champion.
She held the belt until she vacated it on January 1, 1963. She and her husband had moved to Charlotte, North Carolina in 1962 and he decided that they were going to settle down there. Thus, in the midst of the most important run in her career, she was forced to give up her title. Although she defeated Nell Stewart for the NWA Texas Women's Championship again in 1963, the rest of her career was spent in the vicinity of North Carolina, South Carolina, Virginia, West Virginia and Florida, thus limiting her opportunities. Nonetheless, she was still a very popular performer and was able to gain title shots against Moolah, who now reigned over women's wrestling. The two met 15 times from 1963 through 1973 with the matches ending without a decision twelve times, with Penny winning one non-title match and with Moolah winning twice. Banner claimed that on both occasions Moolah had "cheated" to win by holding the ropes.
Banner had more to complain about with Moolah besides her in-ring tricks. She resented not only Moolah's stranglehold on the Women's title belt, but also on the careers of the women who trained under and wrestled for her. Penny stated that Moolah demanded exorbitant fees from the wrestlers and accused her of forcing the women to engage in salacious behavior in order to get bookings.

In a blog post she said that Moolah "sent women to promoters who demanded sex, either with the promoter or his wrestlers… It's wrong to speak bad of the dead, but the comments in the mainstream press and even A.P. wires come dangerously close to making Moolah seem like some kind of saint, and from a pro wrestling point of view as some kind of legendary tough shooter. That's utter bullsh*t."
Penny, known for having a positive and bubbly personality, had other reasons to be upset. For years she had hidden the secret of her failing marriage with Weaver. She said that Weaver was unfaithful for years, sleeping with "ring rats" throughout their marriage. She also implied that he was abusive with her during the marriage, a charge that was whispered in locker rooms across the country. He even affected her wrestling career by insisting that they stay in the Carolinas and that she wrestle as a babyface after years as an established and successful run as a heel. Her predicament wasn't unique however, as she witnessed many of her fellow female wrestlers suffer abuse at the hands of their wrestler husbands. Her best friend and former tag teammate Betty Jo Hawkins was in an abusive relationship with her husband, wrestler Brute Bernard. Banner recalled to Mooneyham an incident that occurred on the road. "Brute and I once had a big fight at the Avery Hotel in Boston. He slapped Betty Jo, and I jumped his back like a monkey. After that I would only go see Betty Jo when he wasn't home."
Her frustration with the various parts of the wrestling industry made her decision to retire from the sport in 1977 an easy one. In a 2004 interview with G.L.O.R.Y. Wrestling, Banner explained that: "There just were no girls to wrestle, and Moolah's school by that time was blooming, and finally her girls were being sent off to different territories, and I simply had no one to wrestle. I was only wrestling one time a month for several months, and that was not enough. Actually, that is how you can get really hurt, only wrestling once in a while. So I made the decision to retire, and I did. They say you should retire while you are on top, and I did. Billy Wolfe had passed away in '63, and there was no other school of wrestling, and Moolah didn't want to book her school of girls against me, because she got no commission from me, only from her girls."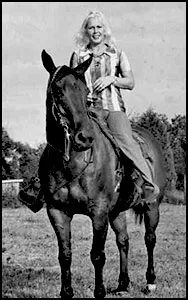 While raising her daughter she tried to stick it out with Weaver but the couple would divorce in 1995 after 35 years of marriage. Even before their split, she sought to fill her time with productive hobbies and tasks. She took up folk dancing called clogging and took guitar lessons. She would eventually become the president of the local 4H club in Charlotte and overcame a fear of horses to become a trainer and work with the rodeo. She developed a career in real estate and being the natural athlete that she was, she decided in 1990 to compete in the Senior Olympics, taking part in the shot put and discus throws and won the bronze medal in the 50 meter backstroke competition.
With women's wrestling still dear to her heart, she became the commissioner of the Professional Girl Wrestling Association in 1992 and began attending wrestler reunions, reacquainting with old friends and meeting new female wrestlers who admired her career. In 2005, after years of struggling with the ups and downs of her career and personal life, she wrote her autobiography, entitled Banner Days. She claimed that over the last 20 years of her career to have never been pinned clean in the ring, and only to have been pinned at all twice: once by Belle Starr and once by The Fabulous Moolah, both of whom used the ropes for leverage."
Despite working with PGWA, she was less than impressed with lady wrestlers of the day. Continuing her interview with G.L.O.R.Y. Wrestling, she told Joe Rules that "Today's exhibition is NOT wrestling. They are comic book scripts, and I do not watch them and their predetermined matches and moves. Granted, they have learned to take bumps, and I did too. They learned the wrestling holds, and I did too. But then we went out and wrestled, and today, the business goes out and "acts". I really feel for the girls who want to break in the business and have to do what is going on today, instead of really showing their skills at wrestling." She also was dismayed about the changing role of women in the sport. As women in the 1990's and beyond were used as eye candy more than as athletes, she recalled to Mooneyham that in her era that she and the other female wrestlers went to great length to sew elastic in their wrestling gear to ensure that the cheeks of their rear ends didn't hang out. "Now, anything can hang out," she said with a laugh.

She seemed to recognize that she could have been a much bigger star had circumstances been different. Speaking with Mooneyham, she opined that "I could have been the Buddy Rogers of women's wrestling… I'm the first girl who started wearing two-piece bathing suits in the ring. I always tried to do something to be memorable and different – something more than just flying mares and dropkicks." She also revealed that Billy Wolfe had sent her a letter that indicated he had planned to make her a huge star and the champion had he not left his camp. "He had been priming me to beat June Byers for the title all along. I wish I had known … Back then I never really thought anything about what he said. But as I read it again today, I can see the 'big picture' he had secretly planned for me." In the world of wrestling, however, a promoter's promises can ring as hollow as a drum. But for a woman who possessed the "total package" needed for success, it seems that Banner could certainly have ascended greater heights in her career. Penny, however, looked back with positive memories. When asked in the Icons of Wrestling documentary about her life she said that "If I had to be remembered, one particular way, I would want to be remembered as an athletic, good looking woman, full of life, that likes to have fun. That's what I would like to be remembered as. And I would also like to be remembered as .. the first AWA Ladies champion."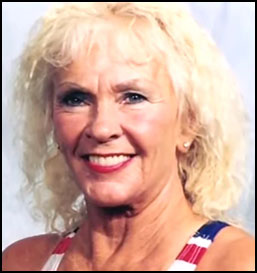 Penny Banner was a recipient of the Cauliflower Alley Club's Art Abrams Lifetime achievement award in 1997 as well as the George Tragos/Lou Thesz Professional Wrestling Hall of Fame's Frank Gotch award in 2008. Additionally, she is a member of the Stampede Wrestling Hall of Fame (1995), the Professional Wrestling Hall of Fame (2005), and the St. Louis Wrestling Hall of Fame (2007).
Following a long period of poor health, Penny Banner died on May 12, 2008 in Charlotte, North Carolina at the age of 73.
Sources: