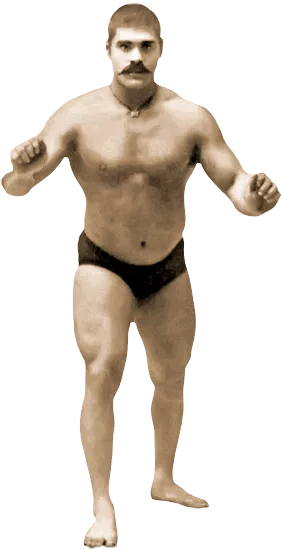 The early portion of the 20th century was truly an era of professional wrestling that produced some of the most skilled and dangerous grapplers the sport has ever known. Competing during a time in which pro wrestling commanded great respect and popularity, the wrestling superstars of the day were among the most famous athletes in the world. Without question, one of the most recognized names from that period of time would surely have to belong to the Indian powerhouse known (and feared) across the world as the Great Gama. While not the tallest of competitors, was a truly dangerous shooter who was generally regarded as one of the most powerful men in the sport during his era. At over 230 pounds of solid muscle, with a wealth of grappling knowledge, The Great Gama was, indeed, a force to be reckoned with.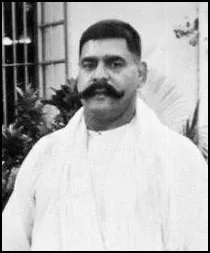 He was born Ghulam Mohammed Baksh Butt on May 22, 1878 in Amritsar in the Punjab. The son of famed wrestler Aziz Gama, Ghulam began his career at the turn of the century, wrestling in his native India with great success. The naturally gifted Gama won the title of Champion of India in 1909 and laid out an open challenge to anyone who would wrestle him. Generally, in order to receive a shot at Gama, a competitor would either have to hold a championship title of some sort or best his nearly undefeatable brother, Imam. None did. However, while India had long been known as a breeding ground for elite wrestlers, it was not until he travelled to Great Britain in 1910 that Gama truly became known across the world. The Great Gama's combination of power & skill along with his unique wrestling style eventually resulted in a curious decline in available European opponents for the Indian shooter, as well as his highly skilled troupe of countrymen. At first, many of the local British grapplers were understandably reluctant to put their win/loss record on the line against Gama, a new, unknown threat who was undefeated in European competition.
After winning his country's championship, Gama, Imam and R. B. Benjamin's troupe of Indian wrestlers traveled throughout Europe taking on all comers. During this tour Gama defeated some of the most respected grapplers in the world, including "Doc" Benjamin Roller of the United States, Maurice Deriaz of France, Johann Lemm (the European Champion) of Switzerland, and Jesse Peterson from Sweden. His most acclaimed match was against the formidable Stanislaus Zbyszko, a World Champion from Poland. Zbyszko, upon assessing Gama's considerable ability, wisely wrestled very defensively for the entire bout and was fortunate to secure a draw. Nearly twenty years later, Gama and Zbyszko had a rematch in India that drew the largest crowd ever for a wrestling event in that country. This time around, though, the veteran bulldozer Gama attacked the aging Zbyszko and secured the victory (by knockout) in an amazing 21 seconds before a rabid hometown audience.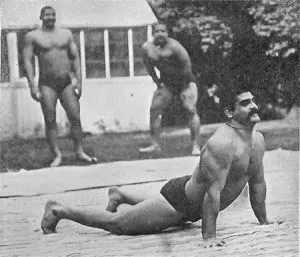 The Indian powerhouse eventually realized that his name recognition and fearsome reputation had spread to all points of the wrestling map and a supremely confident Gama soon issued a challenge to any wrestler in any country who laid claim to the World Championship. This included Japanese Judo champion Taro Miyake, George Hackenschmidt of Russia and Frank Gotch of the United States. Each declined the invitation to face the Great Gama. At one point, in order to attract some type of competition, Gama offered to fight twenty English wrestlers, one after another, stating that he would defeat all of them or pay out the prize money himself. Still, no one would take up his challenge. However, despite his problems finding suitable opponents, Gama did come across one world-famous competitor who was willing to face him. That man was the gigantic 6′ 9″ Rahim Bux Sultaniwala. With a height difference of over a foot to his advantage, the nearly three hundred pound Sultaniwala gave Gama all he could handle, and more.
Eventually, he returned to his homeland and remained, by far, the sub-continent's biggest wrestling attraction. Gama's legendary career continued into the late 1930s and he saw the sport undergo many changes during his more than thirty years in the business. Additionally, not only was Gama the biggest star in his region of the world, his family eventually also became very well known and respected, particularly his brother, Imam Bux, who was a dominant Indian Heavyweight champion. Gama's nephews, known as the Bholu Brothers, were also major stars in India and the surrounding countries.
By 1940, following a remarkable career that spanned more than three decades, Gama retired from professional wrestling. Perhaps not coincidentally, the sport underwent a drastic decline in popularity in his homeland after Gama's retirement, to the point where, by the end of World War II, big-time professional wrestling had all but disappeared from India. A nearly impossible act to follow, he reportedly went undefeated (although he did have a number of draws throughout his career) in an estimated 5,000 matches.
Gama is a member of the International Wrestling Institute & Museum's George Tragos/Lou Thesz Professional Wrestling Hall of Fame (2007) and the Professional Wrestling Hall of Fame and Museum (2015).
The Great Gama, the Lion of Punjab, died in Pakistan on May 23, 1960 at the age of 82.