She was the total package as a professional wrestler. Incredibly beautiful with a great figure, she was type of eye candy that promoters could use to fill their arenas. But June Byers was an incredibly tough, technical wrestler, who could hold her own with the greats in any era of the business.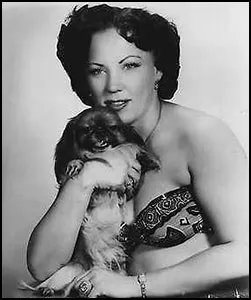 June Byers was born DeAlva Eyvonnie Sibley in Houston, Texas on May 25, 1922. She was the daughter of Arthur Sibley, a house painter, and Ruby Lee Cooke. Delva had two older sisters and a younger brother and grew up as something of a tomboy. Her Uncle, Ottoway "Shorty" Roberts, worked for Morris Sigel, a Houston-based wrestling promoter, so DeAlva was around the business as a youngster. She was an excellent athlete, and her uncle had begun training her in conditioning at the age of seven. Because of her connections, she was able to barrage local wrestlers with questions about wrestling holds and maneuvers and as a young lady she was able to get many of them to help her to further her training. As luck (or fate) would have it, one of the days when she was working out in the ring she was observed by women's wrestling promoter Billy Wolfe. In addition to being the most powerful women's promoter in the world, Wolfe was also married to Mildred Burke, the top female wrestler in the world, and the current champion. Wolfe was always on the lookout for a woman with potential as a wrestler and he had Shorty make an introduction.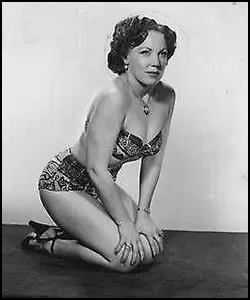 Most people had a hard time pronouncing her name, almost as hard of a time as her parents had choosing one. Although she was born in May, her parents were unable to settle on her name until June and most of the family thus referred to her as June. By the time she signed with Wolfe's promotion, she had already been married and divorced to a man with the last name Byers, and so, as she entered professional wrestling, she did so under the name of June Byers.
She was trained, at times, by former NCAA Light Heavyweight champion Ruffy Silverstein and hard nosed lady wrestler Mae Young. Young fought as tough as a man and was impressed with the toughness that June showed in the ring. Byers debuted in 1944 at a Ladies' Battle Royal in Norfolk, Virginia and spent the next few years touring the country wrestling in Wolfe's troop, usually on the losing side of matches against veteran opponents including Young and champion Burke. Everyone saw great potential in Byers, but considering the dearth of women wrestlers in the business, they were all vying for a top spot. Unfortunately, that left a pathway for obtaining top positions by way of familiarity with the boss. In Pat Laprade and Dan Murphy's Sisterhood of the Squared Circle the authors stated that Wolfe would demand that applicants to his promotion be "single, intelligent, physically agile, and sound of character," as well as photogenic. This appeal to beauty was not only for the enjoyment of the wrestling fans, but also for Wolfe himself. He was notorious for pursuing sexual liaisons with his lady wrestlers, with Freddie Blassie once calling him a pimp. Many of his girls were reported to have exchanged sexual favors for a spot on the roster, something that would surround Byers in controversy later in her career.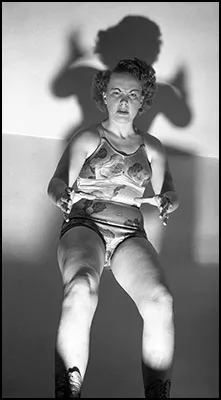 Over the next eight years, June was wrestling constantly, improving and moving up in the rankings. She performed against noted wrestlers including Millie Stafford, Penny Banner, Nell Stewart, Young, Burke, and Elvira Snodgrass. She developed a wrestling maneuver called the "Byers' Bridge" that she used as a finishing hold. As documented in The WAWLI Papers #579 she said that "I actually developed the hold accidentally", she said. "During a match I grabbed an opponent's hands, they fell back with my legs in between, hooking them, I bridged back in a suplex for a winning pin, and that is how the hold was developed. Actually my opponent's momentum carried me backwards, so although I found a new hold and won a match, it happened in such a manner that I almost knocked my brains out doing it."
Billy had her wrestling in a lot of preliminary matches, but imagined her being a much greater star. In the closing days of the 1940's, Wolfe's marriage to Mildred Burke had become strained. Burke was aware of his womanizing and was frustrated with his increased interest in preparing other women to take her place. In addition, Wolfe's son, Bill, Jr., had begun working for the promotion as Mildred's driver, and confessed to his father that he had fallen in love with her and wanted to marry her… his stepmother. His father laughed at him but this demonstrated the turmoil building within the family and within the promotion.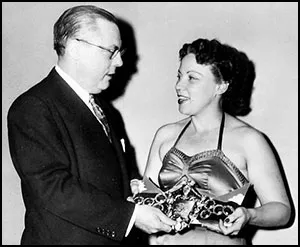 On October 4, 1952, June enjoyed her first taste of title success, teaming up with Millie Stafford to win the Women's World Tag Team Championship, defeating Ella Waldek and Mae Young in Mexico City, Mexico. She would end up holding the tag title belts on five occasions with partners Stafford (twice), Mary Jane Mull, Mars Bennett and Barbara Baker. Burke had been injured the previous year in an automobile accident and was advised to take six months off to heal, without having to forfeit the belt. Wolfe, however, insisted on her getting back into the ring to continue touring. Behind her back, he was planning to push her out of the picture and replace her with his current girlfriend, Nell Stewart. When Burke learned of this she assured him that she would not drop the belt to her for any reason. Wolfe responded (along with Bill, Jr., who was now married to June) by beating her up in a parking lot in front of her five year old son. This added broken ribs and facial lacerations to the injuries she had previously suffered in the automobile accident. When Mildred missed an NWA convention because of injuries, Wolfe told members that Burke was suffering from cancer and that her career was coming to an end. Eventually Burke and Wolfe divorced and through arbitration by the NWA board, they agreed that she would buy exclusive rights to the women's title belt for $30,000.00 and that Wolfe would refrain from promoting women's wrestling for a period of five years. Wolfe, however, had no intention of following through with this commitment and continued promoting, while looking for a way of supplanting Mildred as the new champion. With Wolfe being an NWA member and Burke prohibited from membership by virtue of her sex, the NWA allowed him to arrange a new tournament to crown a new women's champion. Burke found out about the tournament and informed the Baltimore Sun that the results of the tournament had been decided and that Nell Stewart was going to be crowned the new champion. Embarrassed and painted into a corner, Wolfe switched plans and at the end of the tournament on June 14, 1953 in Baltimore, Maryland, June Byers pinned Nell Stewart to become the new Women's World Champion. Burke thought otherwise, in that she had not actually lost the belt in a match and continued to call herself the champion.
Wolfe went to work immediately, marketing his new champion and getting her name out across the United States. She made appearances as a contestant on the popular games shows What's My Line? and I've Got A Secret and got her covered in newspapers and magazines around the country. Burke wasn't resting on her laurels, however. Mildred teamed with promoters Cowboy Luttrall and Don McIntyre and took a troupe of 13 female wrestlers based out of California and toured with them. Wolfe did the same with his group, with Byers and Stewart as his top stars. In addition, he badmouthed Mildred and her wrestlers every chance he got and dissuaded fellow promoters from booking her group. While many supported Burke and her claim to the titles, the NWA sided with their fellow member Wolfe. Thus, the world of women's wrestling became a muddied ball of confusion and with Burke still having credibility across the United States, Wolfe sought a match to end the matter once and for all. After a year of negotiations, a match was set up on on August 20, 1954 in Atlanta, Georgia, pitting June Byers vs. Mildred Burke in a best 2 out of 3 falls contest.
The match started with Byers holding the size advantage, but Burke had been undefeated for more than 17 years. Burke, however, had suffered a knee injury prior to the match and injured it again during the first fall, which went to Byers. Burke later said that it was dislocated and that she popped it back into place for the second fall. During the second fall, the two fought for another 47 minutes when the match was called off (presumably because Burke was unable to continue). In his book Queen of the Ring, author Jeff Lean says that the ring announcer declared "Commissioner stops the bout. Mildred Burke is still officially champion of the world." However, Wolfe fed reports to news media throughout the country touting Byers victory, despite the fact that she failed to secure two falls. Byers argued strenuously on her own behalf. "Mildred claims she wasn't defeated, but I pinned her in the first fall. During the second fall, she left the ring and refused to come back. Regardless of what she told people, it was a shoot." Wolfe and Byers ultimately prevailed months later after persuading the Atlanta Athletic Commission to award Byers the title while Mildred was on tour in Japan.
After 17 years of the title being in the hands of Mildred Burke, June Byers was a fresh new face to wrestling fans across the United States and she wasn't going to be just a transitional champion. She utilized her good looks and athletic figure to attract attention, but used her excellent technical wrestling skills to gain applause. More than anything, she was very tough in the ring and very rough with her opponents. She was very stiff with newcomers, testing them to see if they had what it took to be in the business. Ethel Brown remembered "My worst match was a match with June Byers when she purposely hit me in the face with her fist and broke my nose, blackened both my eyes and my face." Although she did not dominate the sport or draw crowds the way that Burke did, June was a legitimate champion and helped to take the sport of women's wrestling from the side show that it had often been, to a one of competitive matches and great showmanship.
In 1956, Byers suffered from some of the same backstabbing that enabled her to become champion as rumors began circulating that she planned to retire as the reigning champion. Northeastern NWA promoters, led by Vince McMahon, saw an opportunity to peddle women's wrestling to their fans and wanted more control over the women's champion. As a result, they influenced the Baltimore Athletic Commission to strip Byers of the title belt which allowed McMahon to stage a 13-woman battle royal on September 18, 1956 at the Baltimore Coliseum, with the Fabulous Moolah coming out on top over Judy Grable. Byers wasn't relinquishing her crown that easily however, and continued to wrestle with the support of the majority of NWA promoters, and once again two women toured the country claiming to be the top woman wrestler. In 1960, when the American Wrestling Association was formed, it considered Byers to be the NWA reigning champion and therefore recognized her as the first AWA Women's Champion (although she was later stripped of this title when she no-showed a title defense again Penny Banner).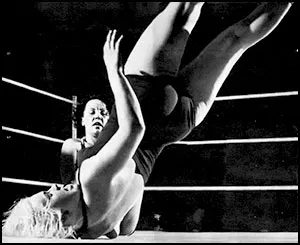 When Wolfe died in 1963, his promotion fell apart and Byers moved to St. Louis, Missouri to work under promoters Sam Muchnick and Sam Meneker (whom she would eventually marry). Later that year, during a match, she was hit in the head by a Coca-Cola bottle and suffering from quadruple-vision, she collided with a tree while driving home. She sustained a leg injury so severe that it forced her to retire from the sport on January 1, 1964 (she continued to suffer from double-vision for much of the rest of her life). She returned to her hometown of Houston, Texas where she became a real estate agent. She remained married to Meneneker until his death in 1994. She had two children, but her son Billy died tragically from an electrocution accident and Judy was reported to have never recovered from the loss. She died at her home from pneumonia on July 20, 1998 at the age of 76. She left behind her daughter Jewel, four grandchildren and five great grandchildren.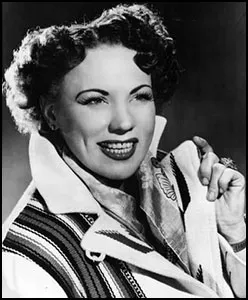 She also left behind a legacy of greatness that is often overlooked. While the names Mildred Burke, Penny Banner and the Fabulous Moolah often overshadow hers, her contemporaries often sang her praises, with Banner calling her the "greatest champion ever." She was the first woman to ever hold the Women's World title and Women's World Tag Team tiles at the same time. and was posthumously inducted into the Professional Wrestling Hall of Fame in 2006 and into the WWE Hall of Fame in 2017.