March 31, 1985, New York, New York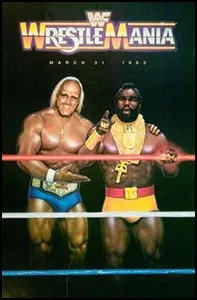 Just one day after the newly-crowned WWF Heavyweight champion Hulk Hogan and actor Mr. T co-hosted Saturday Night Live in order to promote the event, WrestleMania 1 is held at Madison Square Garden and broadcast throughout the U.S. and parts of Canada via closed-circuit television.
The groundbreaking card featured a stacked lineup that included a $15,000 Body Slam Challenge between André the Giant and "Big" John Studd, The Junkyard Dog challenging the reigning WWF Intercontinental champion Greg Valentine, Wendi Richter (with Cyndi Lauper) defeating Leilani Kai to win the WWF Women's championship, Nikolai Volkoff & The Iron Sheik defeating The U.S. Express (Mike Rotundo & Barry Windham) to win the WWF Tag Team championship, and in the main event, Hulk Hogan & Mr. T defeating Paul Orndorff & Roddy Piper with former three-time World Heavyweight boxing champion Muhammad Ali serving as special guest referee. Both Liberace and New York Yankees manager Billy Martin also appeared on the star-studded card, respectively serving as timekeeper and ring announcer.
Although McMahon's viewing public at the time had no idea of the make-or-break stakes surrounding the event, there is no doubt that had WrestleMania not been a success, both Titan Sports and the World Wrestling Federation would have gone bankrupt. As it turned out, 19,121 fans filled The Garden while over 400,000 spectators viewed WrestleMania at 133 different closed-circuit locations throughout North America, allowing the event to ultimately gross between $4-6 million and set the stage for dozens of WrestleMania's to come.