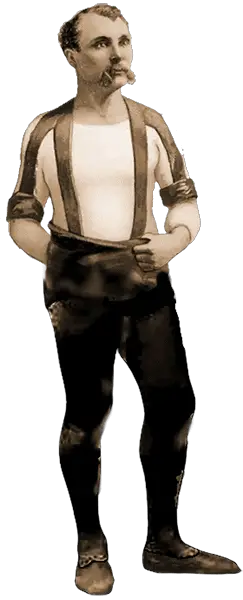 It's safe to say that Colonel James H. McLaughlin is a name that the majority of wrestling fans, even the most enthusiastic followers of the sport, are not familiar with. Understandable, considering his heyday took place during the mid-19th century, in the years prior to, during, and after the American Civil War. Yet, although McLaughlin's name has nearly been lost to history, there is no discounting his importance in terms of how he relates to pro wrestling. Generally speaking, McLaughlin is considered by historians to be professional wrestling's first recognized champion and he (along with William Muldoon) was directly responsible for popularizing the sport throughout America during its infancy.
James Hiram McLaughlin was born on June 8, 1844, in Oriskany, New York. At 6'1″ and 230 lbs., McLaughlin was considerably larger than most men of this time period and he nearly always had a size advantage over his opponents. His specialty was "Collar-and-Elbow" wrestling, a standing discipline wherein balance was highly important and the goal was to throw your opponent. However, he also excelled at "Catch" wrestling, which incorporated strength more so than balance and was a far rougher style, with fewer rules and a much higher risk of injury. McLaughlin's first professional match took place in June of 1859, when he was just 15 years old and, as the victor, he won a side bet of $100 which when adjusted for inflation would equal $2,883. Once the Civil War broke out, a 17 year old McLaughlin joined the Union's 26th New York Infantry as a private. Not long after, he was sent to the 24th New York Cavalry where he was promoted to Captain and by the war's end he was given the rank of Major. McLaughlin believed that wrestling was an excellent means of staying fit and improving a soldier's hand-to-hand combat skills, as well as providing entertainment for the troops. As such, McLaughlin went undefeated in 12 tournaments during his time in the military. Although gathering accurate facts and statistics from this period in history can be difficult, it is generally agreed that McLaughlin claimed the American Collar & Elbow championship in 1866 after defeating Louis Ainsworth in Newark, NJ. All total, McLaughlin would hold the Collar & Elbow title on six different occasions, with his last championship victory coming on October 15, 1884 in Boston, MA. against H.M. Dufur, who himself was a five-time C&E champion. Unlike wrestling's other prominent "colonels," such as Colonel Buck Robely or Colonel Rob Parker, McLaughlin legitimately earned the military distinction when, after being discharged, he was awarded the rank of Colonel by Michigan's governor at that time, Henry H. Crapo.
McLaughlin's first Collar & Elbow loss came on September 1, 1868 against a man he had easily defeated just six months earlier, Homer Lane. The bout took place at Devereaux Hall in Oneida, New York., with a side bed of $2000 ($38,912 in today's currency) at stake. In a confrontation that lasted nearly two hours, Lane defeated McLaughlin two falls to one. The match also stands out as being, perhaps, the first recorded ("recorded" being the operative term) worked professional wrestling match. It's hard to say for sure, although years later McLaughlin stated that he "sold" the match to Lane. Meanwhile, by 1870, there were more than enough talented wrestlers nationwide (many of them making title claims) that a tournament was scheduled to crown the first official Collar & Elbow world champion. The tournament took place in Detroit, Michigan on March 9 & 10 and, of course, James McLaughlin immediately entered himself, as did Homer Lane, E.P. Harrington, Barney Smith and other top competitors.
The first-ever wrestling belt, which was made of gold and diamonds and worth a reported $3,000 ($61,441 in modern currency) would be awarded to the winner of the tournament. McLaughlin, the overwhelming favorite, advanced to the finals where he faced Barney Smith on March 10, 1870. According to legend, McLaughlin threw Smith several times, but was denied victory due to a biased referee. Angered, the powerful McLaughlin lifted Smith and literally threw him over his head, sending him off of the wrestling platform (McLaughlin's matches all took place before wrestling rings, as we know them, came into being) and directly into the orchestra pit below, where Smith landed on his head and neck. At that point there was obviously no way of denying his victory; McLaughlin was declared the Collar & Elbow World Champion and awarded the $3,000 diamond-studded championship belt, the first professional wrestling title belt ever created.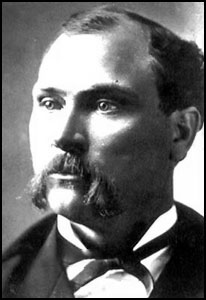 As for Smith, he was allegedly found wandering the streets the next morning during a rainstorm, wearing his pajamas while searching for McLaughlin. The brain-damaged Smith was taken to an asylum where he lived out the rest of his days. McLaughlin was understandably shaken, telling Smith's family that he simply didn't know his own strength. Guilt-ridden, he donated his earnings from the match, a substantial sum of money, to Smith's wife. Unfortunately, Barney Smith would not be the only wrestler unintentionally hurt by McLaughlin. Several men sustained serious injury and one, Charles Meir, was permanently paralyzed during a match against the Colonel. In 1875, Dutch Hogan died following a match with McLaughlin and there are credible reports that at least two other men lost their lives as a result of wrestling James McLaughlin. Obviously, these deaths (and injuries) were unintentional accidents, consequences of a violent sport. However, they did weigh heavily on McLaughlin's mind and on more than one occasion he voluntarily donated his winnings to the family of his competitors.
By the 1870s, the only top Collar & Elbow wrestler that McLaughlin hadn't met and defeated was John McMahon. McMahon (no relation to the WWE McMahons) was born in Vermont in 1841 and at 5′ 10″ and 230 lbs., he was nearly as big as McLaughlin and a very skilled wrestler. In 1873, McMahon defeated Homer Lane (twice) and Perry Higley, both top contenders, and he claimed the American Collar and Elbow championship. On July 22, 1873, McMahon, the American champion, wrestled Thomas Copeland, the Canadian champion, in Troy, NY. McMahon won two of the three falls and claimed Copeland's title. Both before the match and after his victory, McMahon had called-out the World champion, James McLaughlin, challenging him to a winner-takes-all match. When the challenge went unanswered, it caused the wrestling public to want the inevitable match even more. Meanwhile, McLaughlin wrestled California champion Michael Whalen on February 14, 1874 on Whalen's home turf of San Francisco. The East vs. West showdown aspect of the match was hyped heavily in the newspapers and a large crowd gathered to see the two champions battle each other. The outcome left no questions regarding which coast had the superior champion; less than ten minutes into the match, McLaughlin easily defeated Whalen in two straight falls. While the victory may have been sweet for McLaughlin, it was the record-high winner's purse of $15,000 ($343,643 in modern currency) that mattered most. Without question, James McLaughlin was the highest paid athlete on the planet during the 1870s.
That said, there was still the matter of John McMahon that needed to be addressed. But first, he had other challengers ahead of McMahon to deal with such as Jacob Martin, who was a tall, muscular wrestler that also possessed a great deal of talent and skill. On March 23, 1876 in Detroit, over 3,000 fans watched as McLaughlin defended his Collar & Elbow title against Martin, going to a draw after a long, hard-fought match. A rematch between McLaughlin and Martin was set for June 29, 1876, again in Detroit, for the World Collar & Elbow championship. This match also ended in a no-contest after the two men battled for nearly eight hours. Their third and final match took place on October 16, 1876 in New York City, with McLaughlin turning back his formidable challenger in two out of three falls. However, just two months later, McLaughlin lost his World championship to Jim Owens on December 27, 1876 in Boston. Although he possessed a height, weight and strength advantage, McLaughlin was suffering from an injured ankle and after a match that lasted for five hours, Owens threw McLaughlin for the victory.
Seeing that his ankle was not healing properly, McLaughlin took a job as a conductor for the Canada Southern Railroad and it appeared that his wrestling days were over. However, with time, his ankle improved to the point where he felt confident about wrestling once again. In October of 1878, McLaughlin issued a public challenge, open to any wrestler in any part of the world for a Collar & Elbow match with side bets of $5,000. John McMahon heard about the challenge and saw it as the opportunity he'd been waiting years for. He travelled to Detroit and immediately defeated a protégé of McLaughlin's named Robert Wright and then openly challenged James McLaughlin himself.
The challenge was accepted and on Nov. 23, 1878 at McCormick's Hall in Chicago the two met to decide the World Collar & Elbow championship. Reporters and gamblers flooded Chicago for professional wrestling's first "dream match," the biggest, most publicized bout the young sport had ever seen. The first fall went quickly to McLaughlin in just 22 minutes. Undeterred, McMahon rebounded to capture the second fall in just under 30 minutes, evening things at one fall each. The third and final fall came after 28 minutes, when McMahon threw McLaughlin and won the side bet as well as the championship belt and the right to call himself World champion. Of course, McLaughlin immediately challenged the new champion to a rematch, which was scheduled to take place on December 23, 1878, again at at McCormick's Hall in Chicago. The 3,000 tickets sold out quickly and once again the fans witnessed an exciting, fast-paced match that saw McLaughlin avenge his previous loss and regain the World Collar & Elbow belt. By defeating McMahon two falls to one in a match that lasted slightly over two and a half hours, McLaughlin also won the $4000 ($107,388 in modern currency) in side bets. Unsurprisingly, a third match was scheduled between the two, slated for March 12, 1879 in Boston. After two hours and forty minutes of action wherein both men gained a fall, the match was stopped due to the local curfew and the bout was declared a draw, meaning McLaughlin remained champion. A few months later, in November of 1879, James McLaughlin gave up his claim to the Collar and Elbow title and, once again, he declared his intention to retire from wrestling and return to his job as a railroad conductor.
But, as is often the case in professional wrestling, McLaughlin's retirement didn't last and by the end of 1883 he publicly announced that he'd quit the railroad and was returning to wrestling. During this time period, McLaughlin met and defeated top wrestlers such as Duncan Ross and George Flagg. It was against Flagg that, on September 5, 1884, McLaughlin captured the World Mixed championship, which was a title that incorporated three wrestling disciplines; Collar & Elbow, Greco-Roman and Catch. Wasting no time, he also challenged the premier Collar & Elbow wrestler in America, H. M. Dufur. The challenge was accepted and the match was set for December 29, 1884 in Detroit, Michigan. McLaughlin, who was 39 at the time, defeated Dufur two falls to one, regaining the American Collar and Elbow championship in the process. The victories over Flagg and Dufur set the stage for the ultimate wrestling showdown at that time in history; reigning C&E and Mixed champion James McLaughlin vs. reigning Greco-Roman champion William Muldoon. The two most famous wrestlers in America squared off in a pair of mixed matches held in St. Louis. The first took place on November 8, 1884, and was won by McLaughlin two falls to one. The rematch took place just over a month later on December 14 and this time around it was Muldoon whose arm was raised in victory. Not long after his matches with Muldoon, McLaughlin once again announced his retirement from wrestling.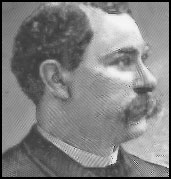 Upon the news of his retirement, his longtime rival/friend H.M. Dufur challenged McLaughlin to one last bout, which he accepted, and the two faced off in St. Paul on April 6, 1886, wrestling a mixed-style match. The first fall was a Collar & Elbow match which McLaughlin won in just eight minutes. The second fall was also a Collar & Elbow affair, and Dufur scored the victory in just under 13 minutes. The third and final fall was a Catch-style match which saw McLaughlin score the pin using a half-nelson. Immediately following the match, McLaughlin announced his retirement and awarded his Mixed championship belt and title claim to Dufur. Of course, this retirement didn't stick either, although it did come close. On May 13, 1902, more than five years since announcing his retirement, McLaughlin, now 58 years old, wrestled his last match ever and lost three falls to two in Syracuse, NY. against a man who would go on to become a legend in his own right, Farmer Burns.
Colonel J.H. McLaughlin was inducted into the Wrestling Observer Newsletter Hall of Fame.in 2016.
On Sept. 11, 1905, James Hiram McLaughlin died in Fairbanks, Alaska, a victim of Bright's disease. He was 61.