DAN GABLE, 1972 OLYMPIC GOLD MEDALIST AND NCAA COACHING LEGEND, RECEIVES PRESIDENTIAL MEDAL OF FREEDOM
By Stephen Von Slagle
December 7, 2020 at 12:02 p.m. EST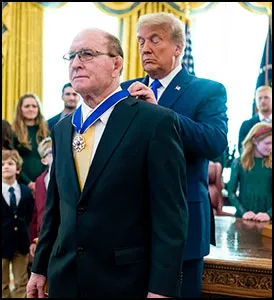 Dan Gable, who many consider to be, pound for pound, the single greatest wrestler that the United States has ever produced, was awarded the Presidential Medal of Freedom today in Washington D.C. by President Donald J. Trump.
The Presidential Medal of Freedom, which is the nation's highest honor for a civilian, was established in 1963 by President John F. Kennedy and is awarded to individuals who have "made exceptional contributions to the security or national interests of America, to world peace, culture, or significant public or private endeavors."
Gable, the only wrestler ever to receive this highest of honors, joins an elite group of athletes that includes previous awardees Babe Ruth (baseball), Jesse Owens (track & field), Muhammad Ali (boxing), Billie Jean King (tennis), Michael Jordan (basketball), and Tiger Woods (golf).
A three-time state high school champion and a two-time NCAA champion, Gable earned a record of 181-1 during his academic years, with his sole loss coming during the 1970 NCAA finals against Larry Owings. The loss to Owings would be the first and only defeat suffered by Gable during his long, storied career. After graduating from Iowa State University in 1970, Gable went on to compete internationally in freestyle wrestling, winning gold medals at the Pan American Games and the World Wrestling Championships in 1971. His dominance continued the following year when he won the Tblisi Tournament and capture
d a gold medal at the 1972 Olympics in Munich, Germany. In his 21 different Olympic qualifiers, Dan Gable scored 12 falls and outscored his nine other opponents by a margin of 130-1. Furthermore, en route to the gold medal, Gable did not have a single point scored against him during his six Olympic matches in Munich.
Dan Gable's tenure as the head coach for the University of Iowa was equally, if not more, impressive than his career on the mat. The winningest coach in NCAA history, Gable led the Hawkeyes to 21 consecutive Big Ten championships as head coach and, under his leadership, Iowa earned 15 NCAA Division 1 titles, nine of which were consecutive (1978-86). Along the way, Gable coached no less than 45 national champions, 106 Big Ten champions, and 152 All-Americans. He also served as head coach for three separate Olympic teams (1980, 1984, 2000), was the assistant freestyle coach at the 1976 and 1988 Olympics, and coached 10 World Cup teams. During his nineteen years as Iowa's head coach, Gable amassed a record of 355-21-5.
Regarding his Presidential Medal of Freedom award, Gable said, "I've received a lot of awards and have a lot of trophies, but this is the highest honor a civilian can receive. It's really hard to wrap my head around that."