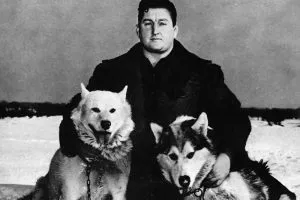 Wrestler Yukon Eric, a popular Canadian wrestler who performed throughout North America, died on this date. A former NWA Canadian Open Tag Team Champion and NWA Texas Heavyweight Champion, Eric Holmback was best known for losing an ear in a match against Killer Kowalski in 1952. Their rematch was the first wrestling match televised in Canada.
After moving to Florida to continue his wresting career, Holmback began suffering financial problems and was divorced by his wife, who gained custody of their children. A despondent Holmback drove to the church in Cartersville, Georgia where he had gotten married, and shot himself in the mouth with a .22 caliber pistol.
Holmback was honored with the Cauliflower Alley Club's Posthumous Award in 2007.