March 29, 1987, Pontiac, Michigan
Wrestlemania III is the most well known professional wrestling event in history, which cemented the World Wrestling Federation's place as the top wrestling promotion in the business. It was held in the Pontiac Silverdome in Pontiac, Michigan in front of 93,173 fans (a figure which Dave Meltzer of the Wrestling Observer stated was inflated with the real attendance falling around 78,000). It attracted the participation of celebrities such as Aretha Franklin, Alice Cooper, Bob Uecker and Mary Hart, and showcased matches involving some of the biggest names in professional wrestling history, including Rowdy Roddy Piper, Harley Race, Jake Roberts, the Hart Foundation and and the British Bulldogs.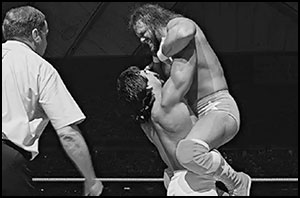 The best match on the card pitted the "Macho Man" Randy Savage against Ricky "the Dragon" Steamboat. The two had feuded for months after Savage struck Steamboat in the throat with the ring bell, damaging his vocal cords and injuring him so severely that he couldn't wrestle for several months. Behind the scenes, the two intricately laid out the match and had the crowd on the edge of their seats as the battle ebbed and flowed. After an incredible 22 near falls, Steamboat rolled Savage up for a pinfall and walked away as the Intercontinental title champion. Savage remembered it as his greatest match and it was named Match of the Year by Pro Wrestling Illustrated and the Wrestling Observer Newsletter.
The main event was held between Hulk Hogan and Andre the Giant. This stemmed from a storyline angle wherein Andre took exception to the fact that Hogan had not offered him an opportunity to wrestle for the WWF World Heavyweight belt. During a confrontation in front of Rowdy Roddy Piper, Andre ripped the crucifix off of Hogan's neck to make his point, setting up the showdown at the Silverdome. During the buildup to the match, Hogan was billed at 6′ 8″, 294 lbs. while Andre was measured at an eye-popping 7′ 4″, 525 lbs. Andre was also stated to be undefeated and never having been body slammed. Hogan started the action on the attack and attempted to slam the Giant, but hurt his back and was almost pinned when Andre fell on top of him. After going back and forth, Hogan picked up the Giant and slammed him in the ring before dropping his patented leg drop and then securing a pinfall over Andre before appealing to the crowd for its cheers. The night proved a huge windfall for the WWF and positioned Vince McMahon, Jr. to dominate the industry for the next ten years.