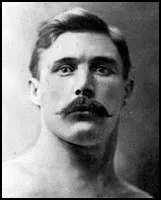 November 1, 1901, Cleveland, Ohio
At the turn of the 20th century, the two most prominent freestyle professional wrestlers in America were, arguably, Tom Jenkins and Dan McLeod. Both men carried impressive win/loss records and both held victories over wrestling's previous top grappler, Martin "Farmer" Burns. As such, Jenkins and McLeod each made legitimate claims to the American championship. Understandably, the wrestling public of the day clamored for a showdown between the two talented title claimants.
After their first encounter went to a no-contest, a second Jenkins vs. McLeod match was quickly scheduled for November 7, 1901 in Cleveland, Ohio. The two combatants were considered very evenly matched, so, when Jenkins dominated his opponent and won the forty-one-minute bout in two straight falls, it was somewhat of a surprise. That said, the outcome was not in question and Tom Jenkins was declared the first truly undisputed American champion in professional wrestling history.
However, Dan McLeod would gain a measure of revenge one year later when he once again faced Tom Jenkins, this time in Worcester, Massachusetts. Jenkins was suffering from blood poisoning in his left leg on the day of the bout, a condition that led to the loss of his championship when he was forced to forfeit the match prior to the start of the third fall. Ultimately, though, Jenkins would have the last laugh when it came to his longtime rival. On April 3, 1903, in Buffalo, New York, the two squared off once more and Tom Jenkins soundly defeated Dan McLeod, regaining the American championship in the process. Jenkins would then go on to hold the American title for nearly a year before he was defeated on January 27, 1904 by the legendary Frank Gotch.