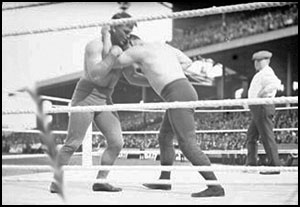 In front of a crowd of 25,000 people in Chicago, Illinois, Frank Gotch defeated George Hackenschmidt in a rematch of the 1908 fight. With a live gate of $87,000.00 in White Sox Park, the match was one of the most anticipated of all time.
Prior to the match, Hackenschmidt opined that he would be better prepared than in their prior match. He told the Chicago Tribune that "When I met Gotch before, I was a sick man and in no condition to wrestle… This time I will be a different man, and I will show the wrestling public that I not only have improved in my wrestling, but that I am a better man at the mat game than Gotch." A cagey Gotch appeared cautious. "If I allow him to get hold of me at the start, he is liable to break some of my bones with his mighty strength," Gotch said a few days before the match. "He is a hard customer to handle because of his power coupled with weight." Unfortunately for the Russian Lion, he suffered a knee injury before the match. He. wanted to cancel the match but was pressured by promoters and his manager in light of the enormous money title up in it.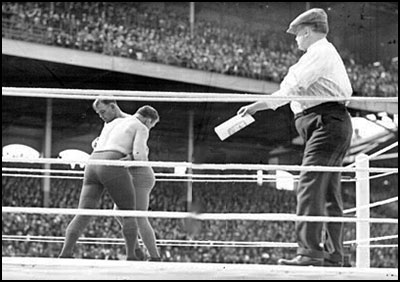 Hackenschmidt entered the ring wearing full tights in order to hide his bandaged leg. Gotch immediately attacked the knee before eventually using a crotch and neck hold to tame the lion in 14 minutes and 18 seconds. After a 15-minute intermission, the match resumed and  Gotch attack Hackenschmidt's leg again before grabbing the challenger foot and locking on a toehold. Hackenschmidt gave up and Gotch retained his title. Hackenschmidt retired after match, but rather than put an end to their feud, controversy erupted when some accused Ad Santel of intentionally injury Hackenschmidt's knee. Santel was working as a training partner with Hackenschmidt, but had previously worked with Gotch. Lou Thesz had made the accusation and Santel was alledged to have responded that "that's just the way it was back then." Gotch received a payday of approximately $21,000.00 for the match.